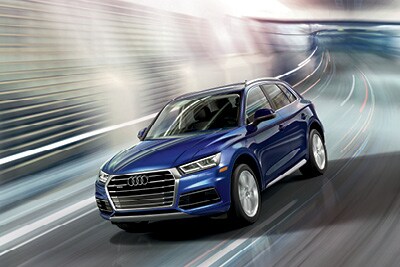 Audi Q5 vs. 2018 Lexus RX
When shopping for luxury SUVs it is natural to make comparisons before choosing the perfect one for you and your family. The Audi Q5 and the Lexus RX 350 are two luxury SUVs that have somewhat comparable features and are cross-shopped when it comes to purchasing a mid-size luxury SUV. 

Let's Compare Size: 
The Lexus RX 350 has a slightly larger body than the Audi Q5, but the Q5 has a nicer interior with more cargo space. Leather seats are standard on the Audi, but are only optional on the Lexus. With the second-row seats in an upright position, there is 26.8 cubic feet of cargo room in the Audi with 18.4 cubic feet of cargo space in the Lexus. When the second-row seats are lowered, the Audi boasts 60.4 cubic feet of cargo space while the Lexus RX 350 has 56.3 cubic feet. 
Let's Compare Technology: 
In addition to leather seating and larger cargo space, the Audi also makes using a smartphone easier with standard Apple CarPlay and Android Auto compatibility. The infotainment system in the Audi is also easier to use than the joystick driven one in the Lexus. 

Let's Compare Fuel Economy:
When it comes to fuel efficiency, the Audi Q5 gets approximately 23 miles per gallon in the city and 27 miles per gallon on the highway while the Lexus gets 19 miles per gallon in the city and 26 miles per gallon on the highway. The Audi allows the driver to choose between four driving modes for a more customized driving experience. The Audi Q5 is able to tow up to 4,400 pounds while the Lexus can tow up to 3,500 pounds. 

As you can see, the Audi beats the Lexus on several aspects that are important to today's driver. Shop Jack Ingram Audi in Montgomery for a more in-depth look at the Audi Q5. 
One of our Audi specialists will go over all the features so you can make an informative decision about your luxury SUV purchase. 
For more information on how the Audi Q5 compares to the Lexus RX350, contact Jack Ingram Audi in Montgomery today.
Make an Inquiry
Hours
Monday

8:00 AM - 7:00 PM

Tuesday

8:00 AM - 7:00 PM

Wednesday

8:00 AM - 7:00 PM

Thursday

8:00 AM - 7:00 PM

Friday

8:00 AM - 7:00 PM

Saturday

8:30 AM - 6:00 PM

Sunday

Closed